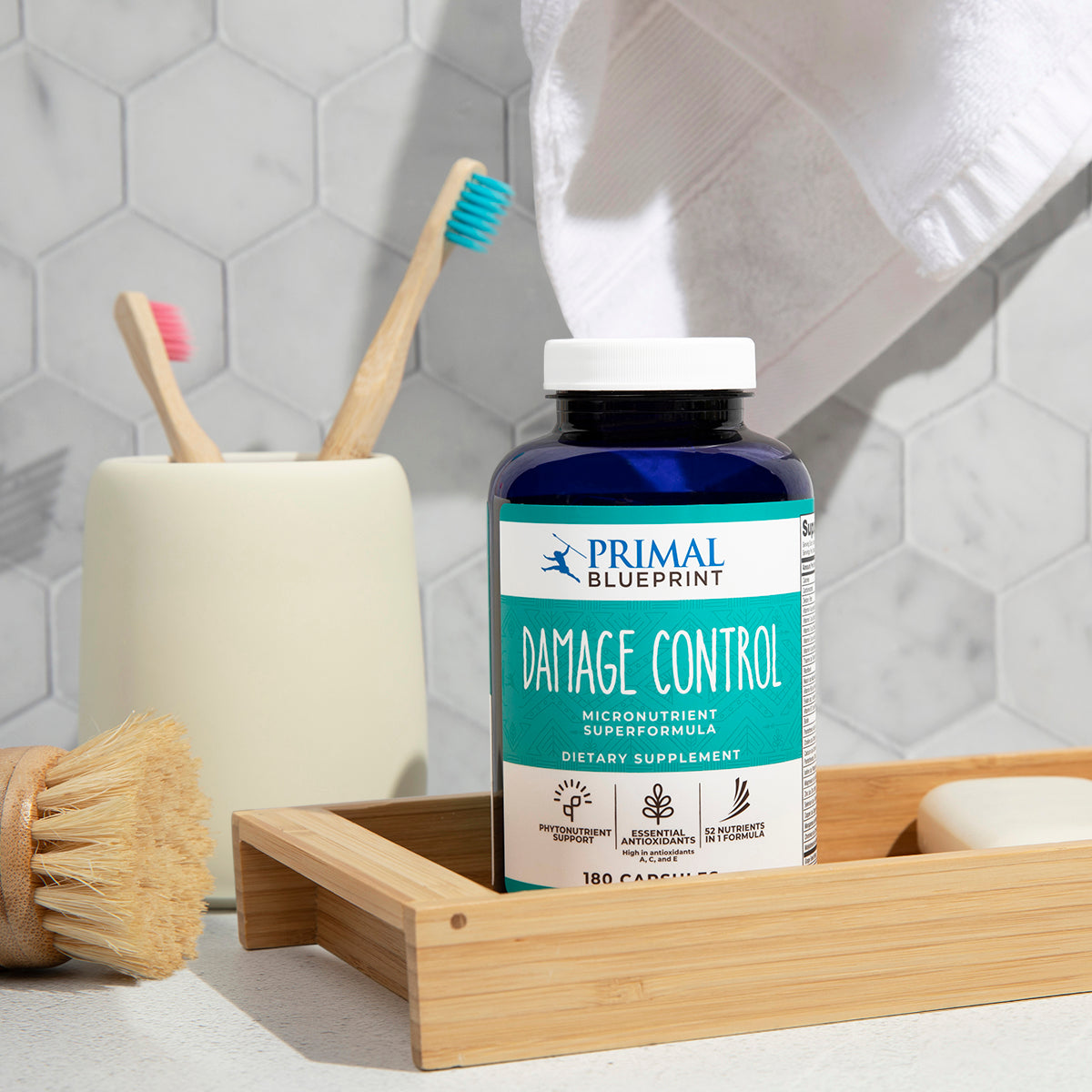 Primal Damage Control
Primal Damage Control provides 52 nutrients in one dietary supplement, including antioxidants, phytonutrients, and essential vitamins and minerals. These vital nutrients support your body's natural processes and defenses† so you can be at the top of your game.

†This statement has not been evaluated by the Food and Drug Administration. This product is not intended to diagnose, treat, cure or prevent any disease.

100% Satisfaction Guaranteed
What others are saying
Excellent product, great taste, order packaged with great care. Couldn't ask for more.
John Eric C.
Diviiiine!!! Heaven in a bottle!
Chris
A healthy option that all our kids are willing to try!
Denny D.
FAQS
Why do I need so many different vitamins and minerals?
Our food supply may be lacking in essential nutrients since our environment is flooded with pollutants, and modern stressors confront us at every turn. That's why all the ingredients in our formula have been carefully selected to provide you with a comprehensive package of antioxidants, phytonutrients, and energy co-factors to help support any gaps.
How many pills should I take each day?
Damage Control is a "fractal" formula; you can take as much or as little as you need on any given day, depending simply on how you feel. There is no right or wrong dosage, since each capsule contains a proportion of everything on the label.
How long is the shelf life for this product?
Maintains optimum potency for up to 18 months.
How is Primal Damage Control different from Primal Master Formula?
Primal Damage Control is a budget-minded alternative to Primal Master Formula. It uses the same manufacturing technologies and the same sources of ingredients as the Master Formula, but omits and/or reduces some of the most expensive ingredients.
What guarantee do you offer?
If for any reason you are not completely satisfied with any of our products or have a less than satisfactory experience, please contact our customer service specialists within 30 days of the receipt of your order.
*Information is subject to change and packaging may not be an exact match to labels and packaging in the marketplace.
Need it Today?
Find your favorite Primal Kitchen products at your local retailer.