Tangy & Delicious
Whip is now at Costco
Find our NEW Mayo Spread at select Costco locations.
Our Story
At Primal Kitchen, we believe more is more. We're all about more flavor, more meals, and more memories worth savoring.
Our products are made with real ingredients that make preparing delicious dishes for your family easier than ever. Primal Kitchen has you covered with ingredient lists worth bragging about.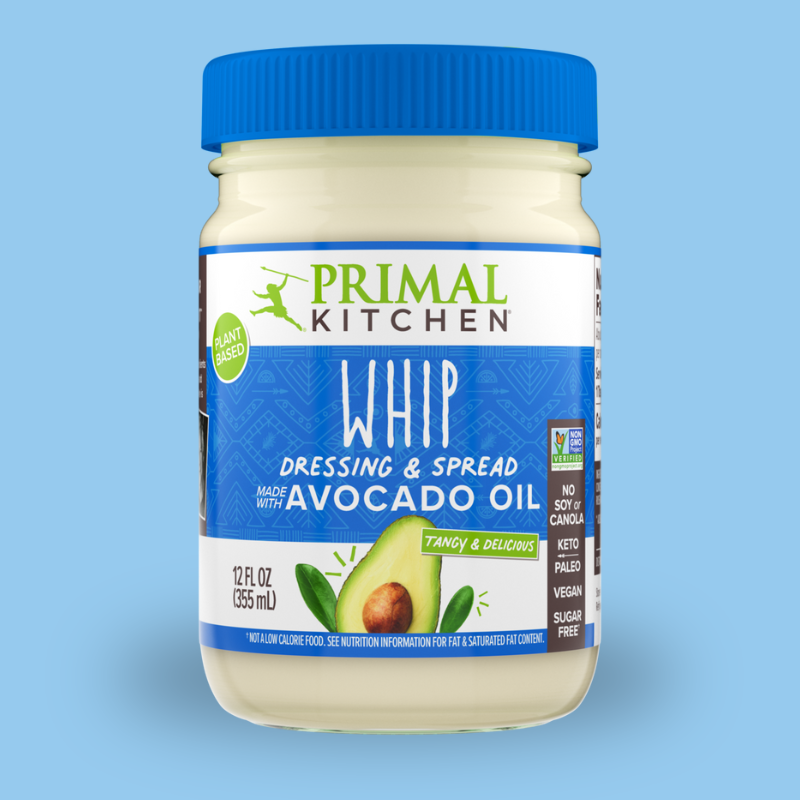 Spread the flavor
Miraculous Taste, Dreamy Texture
Whip any dish into shape with a creamy, zippy, sweet-spiced whipped mayo that's even better than you remember! 
Primal Kitchen® Whip Dressing & Spread is made without cane sugar or corn syrup–because your childhood memories are already sweet enough.
It's also free from eggs, soy, or canola, so you can get the zingy flavor you crave, without compromise.
Ways to Enjoy Primal Kitchen Whip
Add zip and zing to these classic dishes with our whipped dressing & spread.
Summer staple
Macaroni Salad
It's one of the most classic bound salads—those held together with a thick binding agent like mayo or dressing. Plus, it's the perfect companion for your next potluck or picnic.
Our version of the classic macaroni salad is everything you want in a summery side dish without all the ingredients that you don't.
Ingredients
8 ounces uncooked chickpea, gluten-free, or veggie elbow noodles (about 3 cups)

1/2 cup red bell pepper, diced (about half a pepper)

1/2 cup orange bell pepper, diced (about half a pepper)

1/2 cup celery, diced (about 2 stalks)

1/2 cup red onion, diced

3/4 cup Primal Kitchen Whip Dressing & Spread

2 Tablespoons Dijon Mustard

2 Tablespoons fresh dill, finely chopped, plus more for garnish

1 Tablespoon apple cider vinegar

1 teaspoon raw cane sugar (optional)

Salt and black pepper, to taste

4 ounces grass-fed cheddar cheese, cubed (about 1 cup)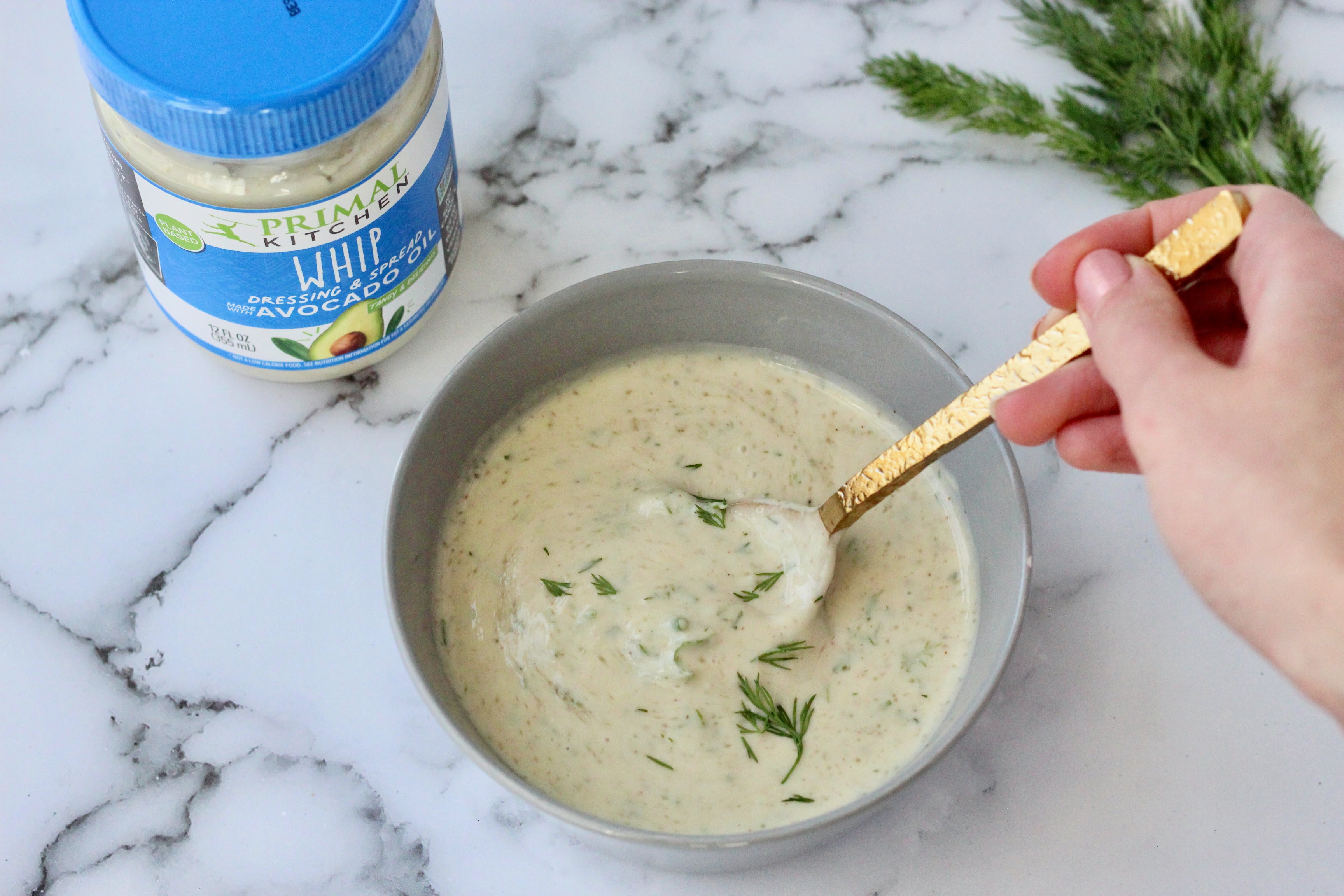 Directions
1. Cook the pasta according to package instructions. Drain and rinse under cold water until cooled. Pat dry, then set aside in a large bowl.

2. In the same large bowl, add the bell peppers, celery, and red onion. Gently stir until incorporated.

3. In another small bowl, whisk together Whip, Dijon mustard, dill, apple cider vinegar, sugar, and salt and pepper.

4. Pour this creamy mixture over the pasta and vegetable mixture and toss well to combine.

5. Finally, add the cubed cheese to the same bowl and gently mix in.

6. Cover and refrigerate for at least 20 minutes or overnight to allow the flavors to meld together. Enjoy!

7. Store extra macaroni salad in the fridge in an airtight container for up to 3-5 days.
3 Ways
Deviled Eggs
Simple, protein-packed handheld snacks that even kids enjoy, deviled eggs are the perfect addition to any potluck or brunch.
Our go-to deviled egg recipe is simple enough that you can whip it up on the fly with a few ingredients you likely already have in your fridge.
The crumbly sunshine-yellow egg yolks need just a dollop of whipped spread made with avocado oil, dijon mustard, and a bit of salt to enhance their rich flavor without altering their gorgeous golden color.
Ingredients
6 eggs

1/2 teaspoon salt or 1 teaspoon of white vinegar

2 tablespoons Primal KitchenWhip Dressing & Spread

2 tablespoons Primal Kitchen Dijon Mustard

Topping Options

1 teaspoon paprika

1 Tbsp. chopped chives

½ tsp. everything bagel seasoning
Directions
1. Place the eggs in a single layer at the bottom of a pot, making sure the eggs are fully submerged. Add salt or vinegar to the water.

2. On high heat, bring the water to a rolling boil.

3. Once the water is at a rolling boil, turn off the heat. Place a lid on the pot and let the eggs sit (don't remove from the warm burner) for 10–12 minutes.

4. Remove eggs from pot and cool under running water. Peel the eggs carefully and discard the shells (Tip: use them in your garden).

5. Cut the peeled eggs in half. Gently scoop out the egg yolks and place them in a bowl. Add mustard and mayo or whip. Mash and stir well to combine.

6. Scoop the egg yolk mixture into a piping bag or a resealable bag. Seal the bag and snip off the bottom corner. Pipe the egg yolk mixture into the holes in the egg whites.

7. Dust with paprika or other toppings and enjoy! Store any leftover deviled eggs in a covered container in the refrigerator for up to 5 days.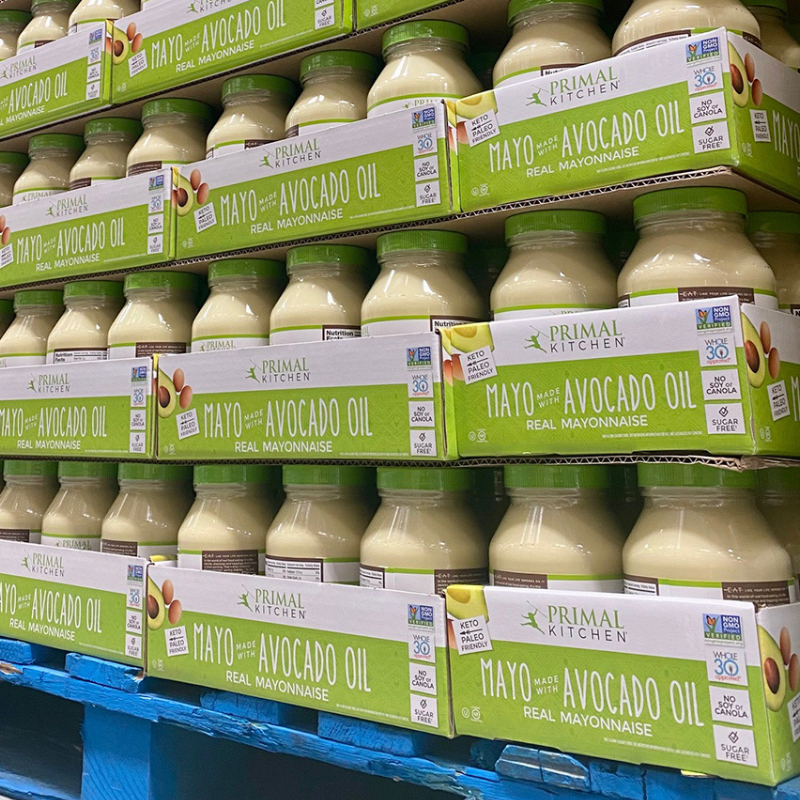 At Your Costco
Mayo made with Avocado Oil
Primal Kitchen Mayo is made with real ingredients like avocado oil and Certified Humane® organic cage-free eggs, and without sugar, soy, gluten, or canola oil.
This classic, creamy Mayo is made without artificial ingredients and is Whole30 Approved®, Certified Paleo, and Keto Certified.
Find Primal Kitchen Mayo now in an extra-large 32oz jar at a Costco near you.