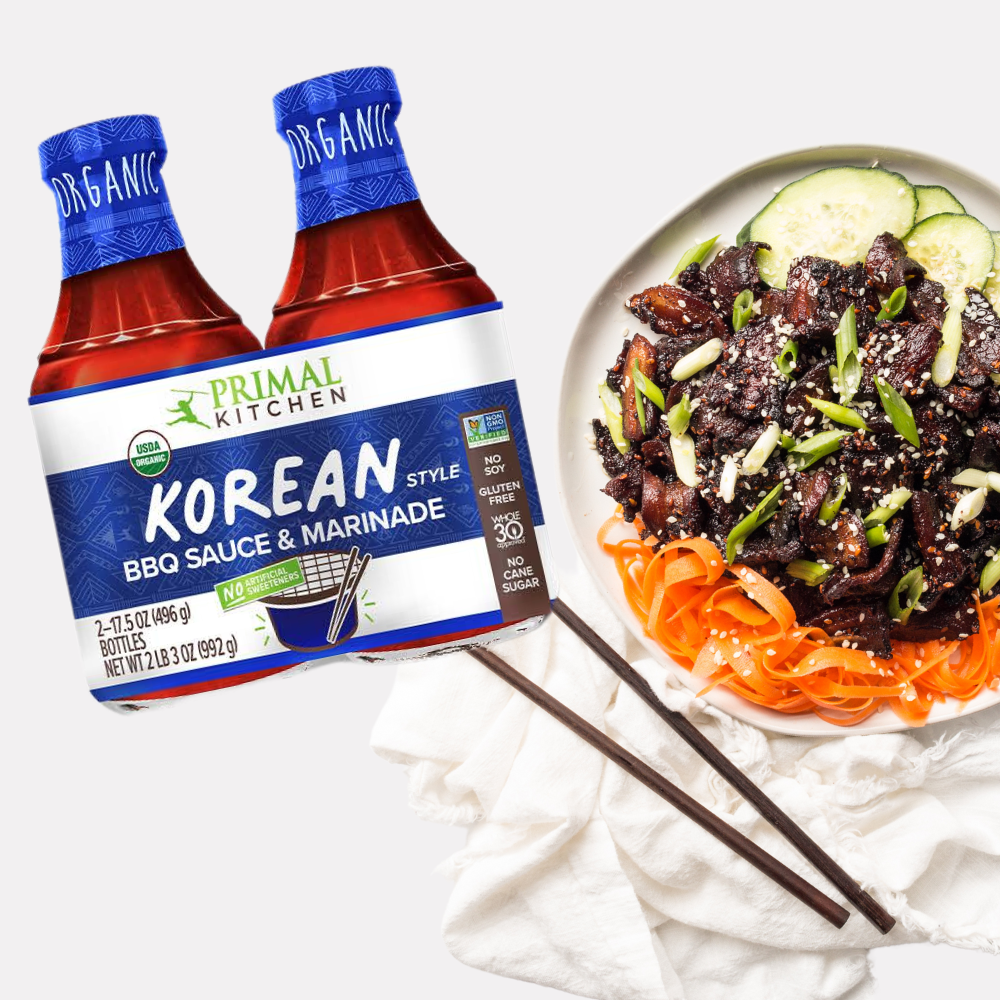 New Sauce & Marinade!
Korean BBQ is now at Costco
Find it in stores in Texas, Louisiana, Oklahoma, and select Kansas locations.
Our Story
At Primal Kitchen, we believe more is more. We're all about more flavor, more meals, and more memories worth savoring.
Our products are made with real ingredients that make preparing delicious dishes for your family easier than ever. Primal Kitchen has you covered with ingredient lists worth bragging about.
'Cue the Flavor
Make your meals sizzle with Primal Kitchen® Korean Style BBQ Sauce.
Crafted with no artificial sweeteners, high fructose corn syrup, soy, or cane sugar, this gluten-free BBQ sauce combines plant-based sweeteners with a mouthwatering blend of spices to create a craveable Korean BBQ flavor that will make your taste buds pop.
Perfect for beef bulgogi, shrimp skewers, and wings!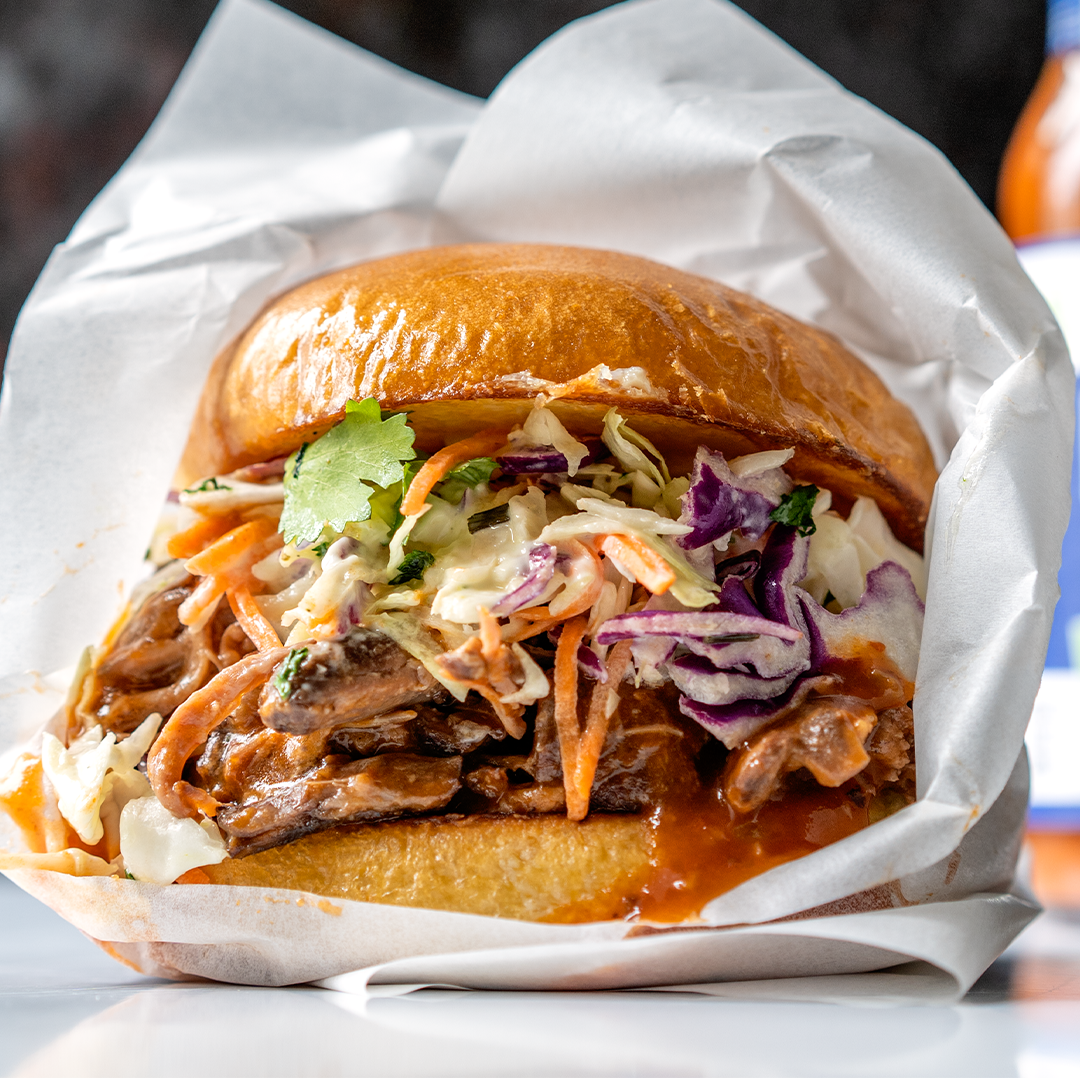 New recipe
BBQ Short Rib Sandwich
Nothing says summer like biting into a juicy, messy short rib sandwich. Primal Kitchen Korean BBQ Sauce gives it an extra zing, and Primal Kitchen Squeeze Mayo makes the slaw extra creamy. 
If you're not a beef fan, you can swap it out for jackfruit or chicken.
Ingredients
Short Rib BBQ
1 bottle of Primal Kitchen Korean BBQ Sauce
Juice from 1 Orange
3 lb boneless short rib

Coleslaw
1/4 cup Primal Kitchen Mayo
1 cup shredded organic green cabbage
1 cup shredded organic red cabbage
1/4 cup red onion, sliced thin

Other
24 slices of pickles
12 buns
Directions
1.Pour barbecue sauce and orange juice over meat in slow cooker; cover with lid.

2. Cook on LOW 8 to 10 hours (or on HIGH 4 to 6 hours).

3. Remove meat from slow cooker; cut into small pieces or shred with fork. Return to slow cooker; stir to evenly coat meat with sauce.

4. Combine all coleslaw ingredients in a large bowl until cabbage is evenly coated with mayo.

5. Assemble a sandwich with 4oz of meat, 1/4 cup of coleslaw and 2 slices of pickles
New Recipe
Korean BBQ Chicken Bowl
Made with our restaurant-worthy Korean Style BBQ Sauce, fresh veggies, pre-cooked chicken, and cauliflower rice, this easy bowl comes together in just 20 minutes!
Unlike many restaurant sauces, our version is gluten-free and contains no soy, artificial sweeteners, corn syrup, or cane sugar.
This recipe includes four portions, so you can either prep nearly a full week's worth of workday lunches or delight the whole fam for dinner.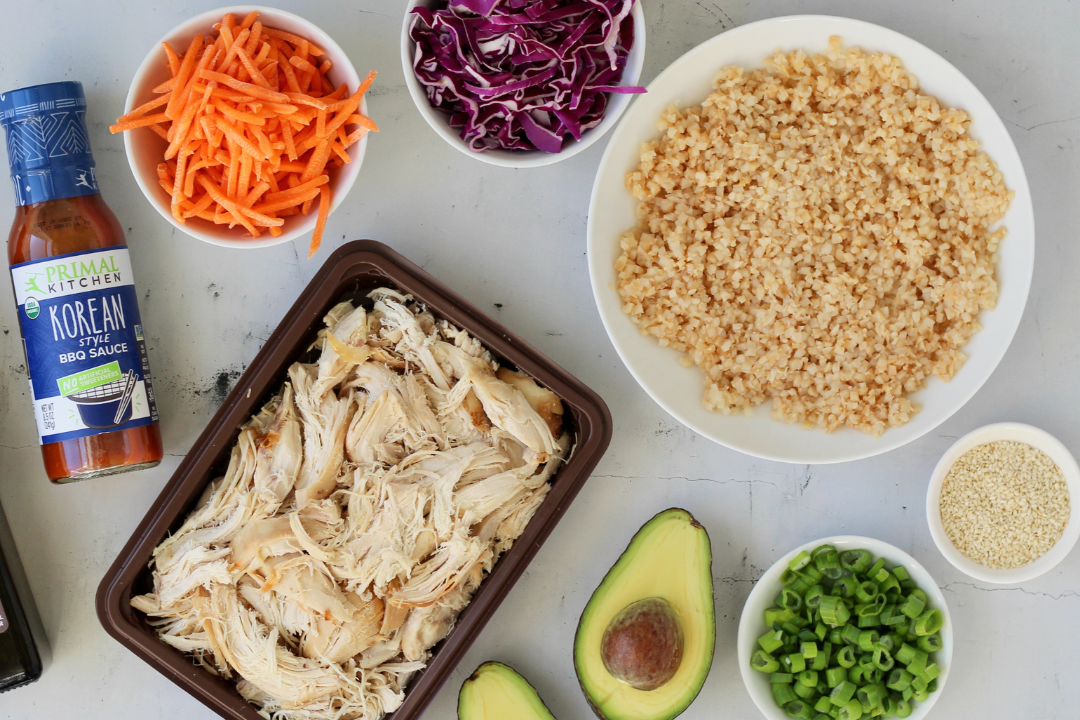 Ingredients
1 pound shredded cooked chicken

1/2 cup Primal Kitchen Korean Style BBQ sauce, plus more for topping

1 Tablespoon Avocado Oil

6 cups cauliflower rice

2 cups red cabbage, shredded

2 cups carrots, shredded

1 large ripe avocado, diced

1/2 cup green onions, sliced

4 teaspoons sesame seeds

Salt and pepper, to taste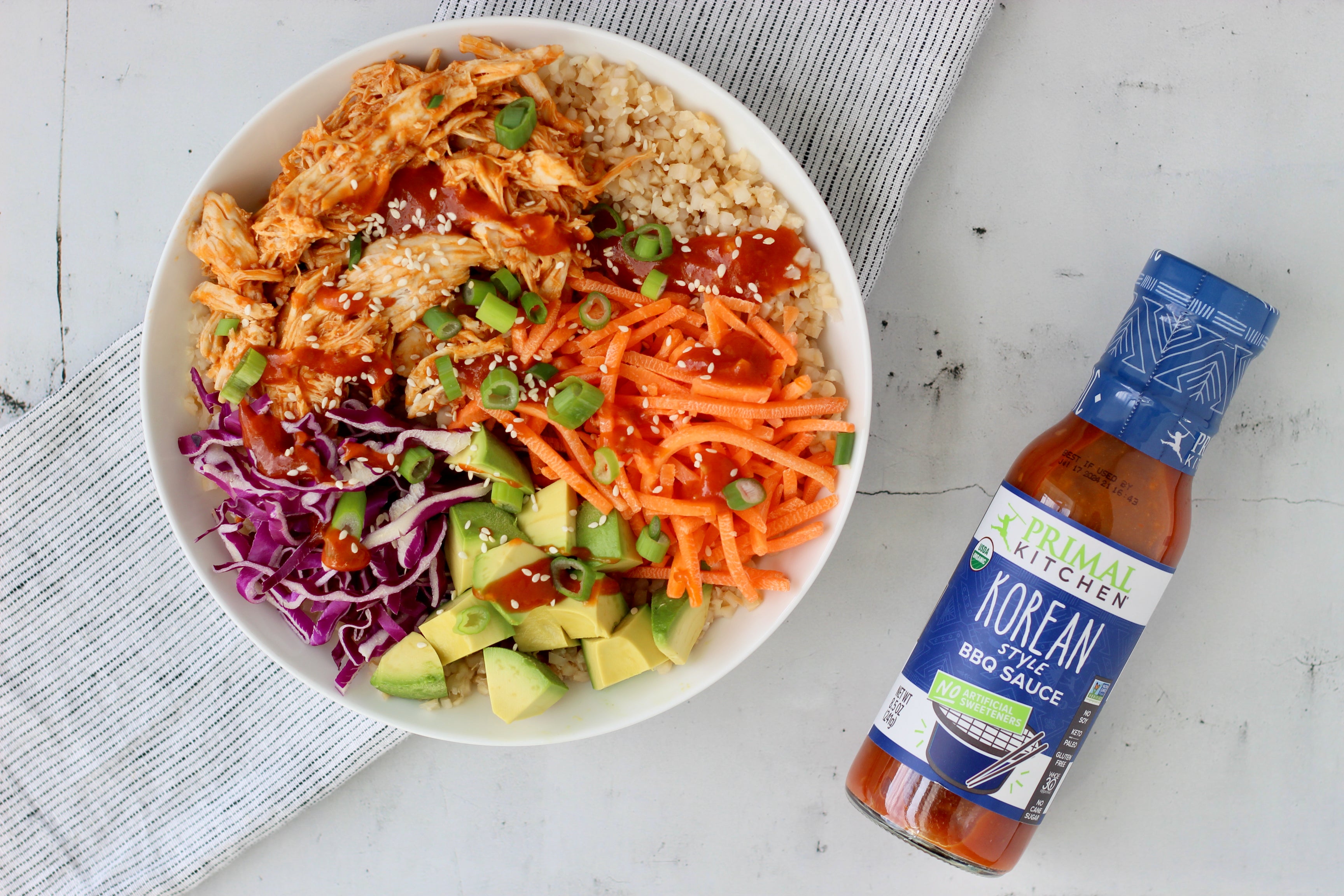 Directions
1. Heat a large skillet over medium heat. Add chicken and Primal Kitchen Korean Style BBQ sauce. Cook for 5-7 minutes, stirring occasionally until heated through.

2. In another large skillet, heat avocado oil over medium-high heat. Add the cauliflower rice and cook for 5-7 minutes, stirring occasionally until tender and lightly browned.

3. To assemble the bowls, divide the cauliflower rice evenly among 4 bowls. Top evenly with red cabbage (½ cup per bowl), shredded carrots (½ cup per bowl), avocado (¼ avocado per bowl), and pulled BBQ chicken.

4. Garnish each bowl with sliced green onions (2 tablespoons per bowl) and sesame seeds (1 teaspoon per bowl). Drizzle with more Korean BBQ sauce on top.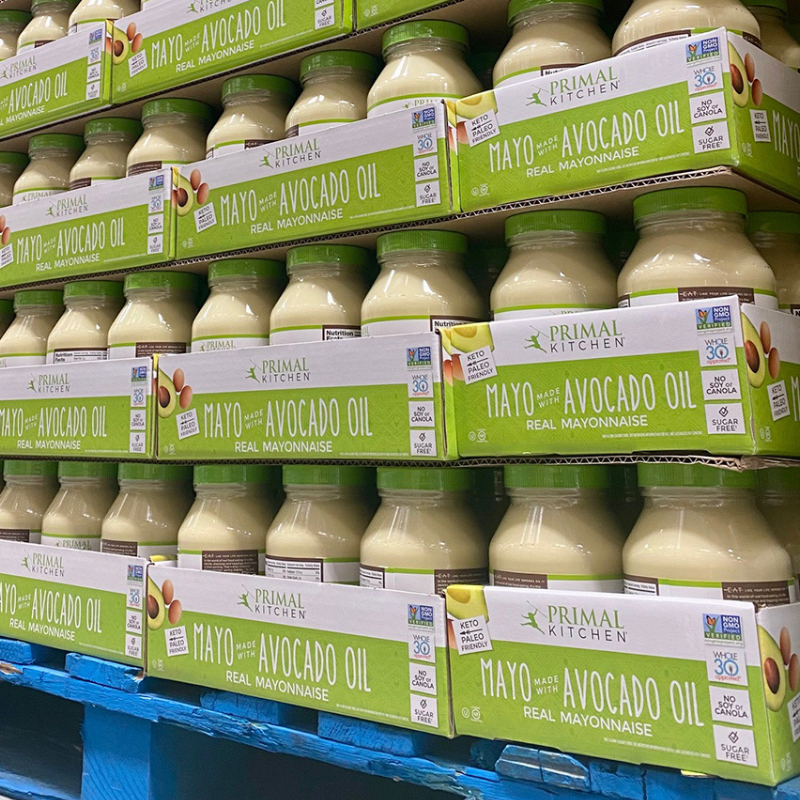 At Your Costco
Mayo made with Avocado Oil
Primal Kitchen Mayo is made with real ingredients like avocado oil and Certified Humane® organic cage-free eggs, and without sugar, soy, gluten, or canola oil.
This classic, creamy Mayo is made without artificial ingredients and is Whole30 Approved®, Certified Paleo, and Keto Certified.
Find Primal Kitchen Mayo now in an extra-large 32oz jar at a Costco near you.