New
Buffalo Mayo at Costco
Find it in locations near you.
Our Story
At Primal Kitchen, we believe more is more. We're all about more flavor, more meals, and more memories worth savoring.
Our products are made with real ingredient that make preparing delicious dishes for your family easier than ever. Primal Kitchen has you covered with ingredient lists worth bragging about.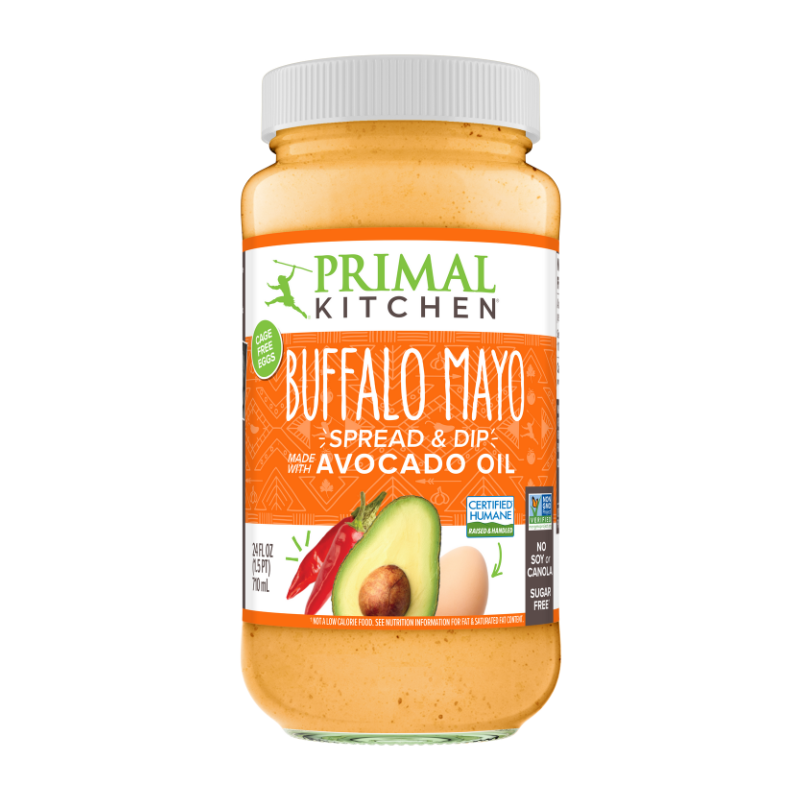 NEW ZESTY BUFFALO MAYO
Spread the Spice
Meet the all-new spread and dip mashup of your dreams: 24oz PRIMAL KITCHEN® Buffalo Mayo made with Avocado Oil.
This creamy buffalo mayo is made with elevated Non-GMO ingredients like Certified Humane cage-free eggs and avocado oil.
Spread on your favorite sandwich and dip fries or air fryer chicken tenders for a delicious combo of creamy and cayenne.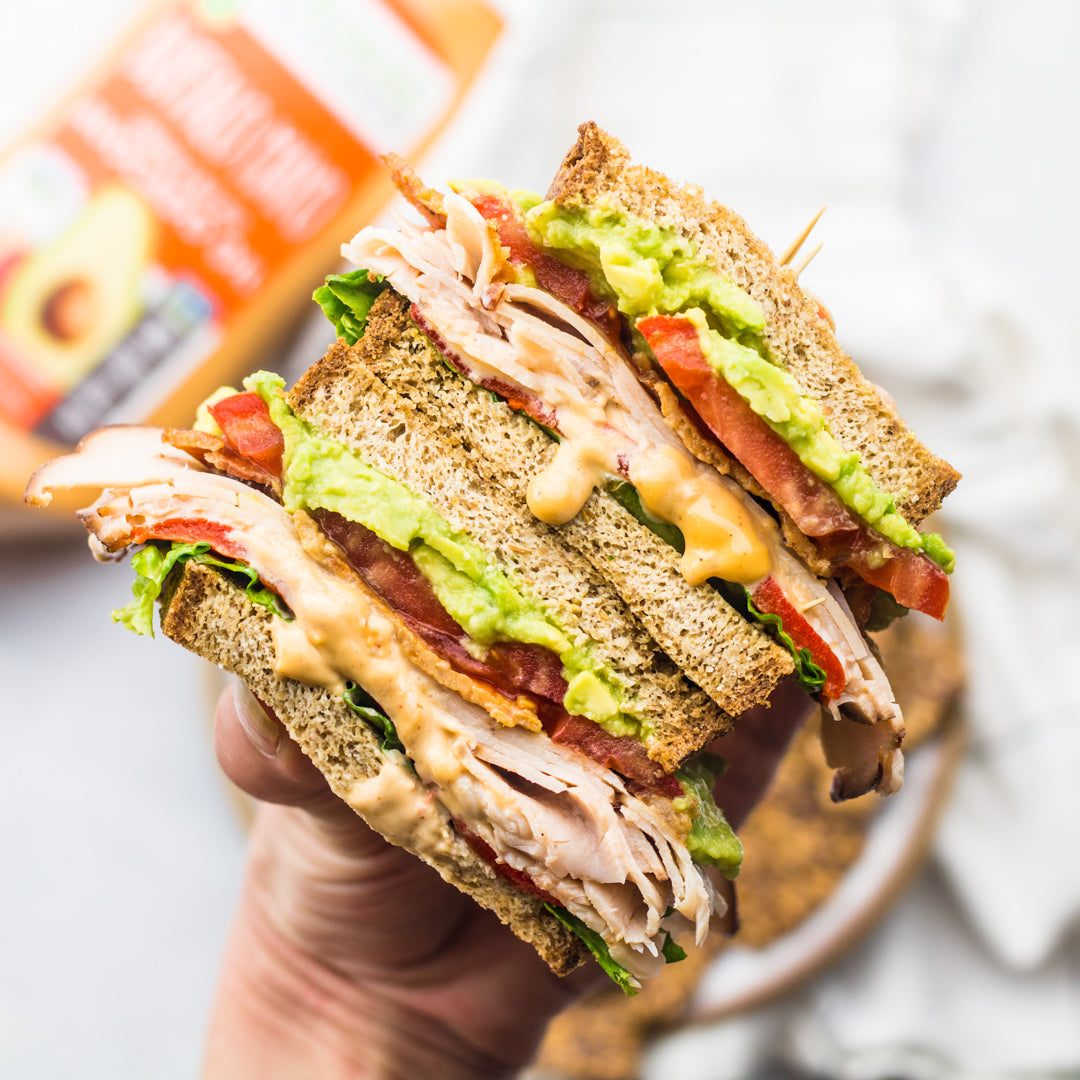 Make this
Turkey Avocado Sandwich
Creamy, spicy, absolutely delicious. This turkey avocado sandwich recipe is all of those things and more. Use grain-free bread to make it gluten free, or turn it into a wrap with lettuce or a gluten free tortilla. 
Enjoy our new Buffalo Mayo made with avocado oil to elevate your sandwich and use it as a dip for your veggies or fires on the side.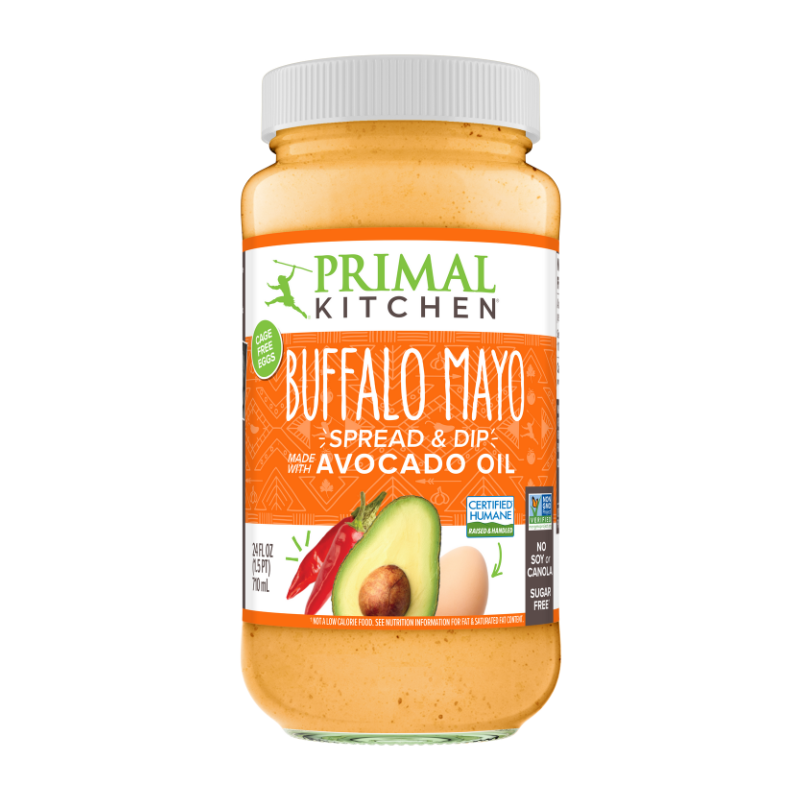 Ingredients
2 slices low-carb/paleo bread (we used UnBun brand)

4 slices roasted turkey (about 4 oz.)

2 slices cooked bacon

2 slices tomato

1 slice roasted red pepper

1 lettuce leaf

½ avocado

1 tablespoon Primal Kitchen Buffalo Mayo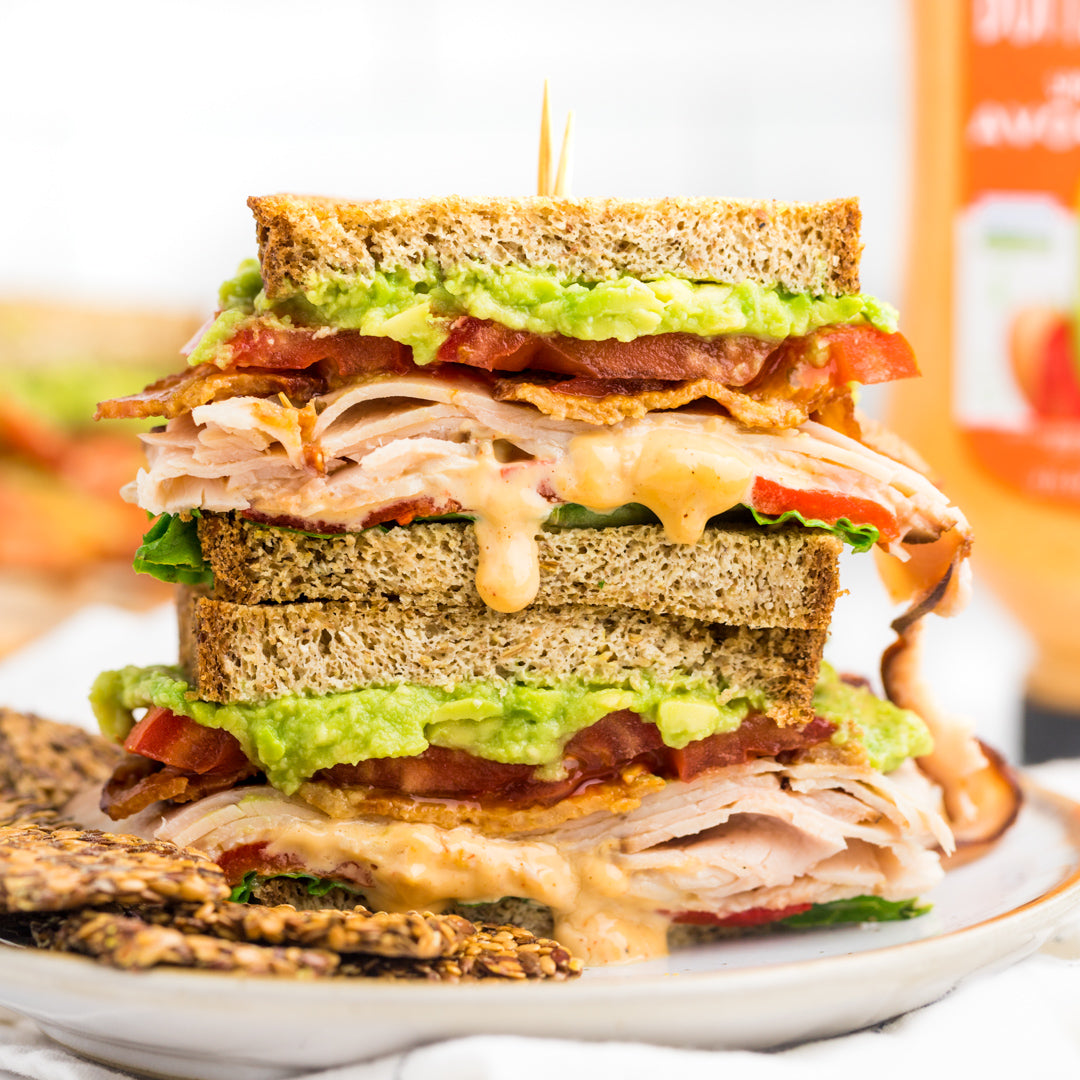 Directions
1. Bake your bacon until they reach your desired crispiness. Mash the avocado with a pinch of salt. Toast your bread.

2. Arrange your sandwiches with the lettuce on the bottom, followed by the roasted red pepper, turkey slices, buffalo mayo, bacon, and tomato. Spread the mashed avocado on the other piece of bread and then press it on top of the assembled sandwich.

3. Serve with your favorite chip, cracker or veggie. Use additional Buffalo Mayo as a dip.
Air Fryer
Chicken Tenders
Crispy, crunchy and juicy. Air fryer chicken tenders are an easy meal for game time munching or after school snacking.
Our version uses Primal Kitchen Buffalo Mayo, cayenne, and paprika in the breading to create the tastiest spicy chicken tenders. Plus, we use pork rinds to keep things keto, whole30 and paleo compliant.
If you want an extra kick for kickoff, use our Primal Kitchen Buffalo Mayo as your chicken tender dipping sauce.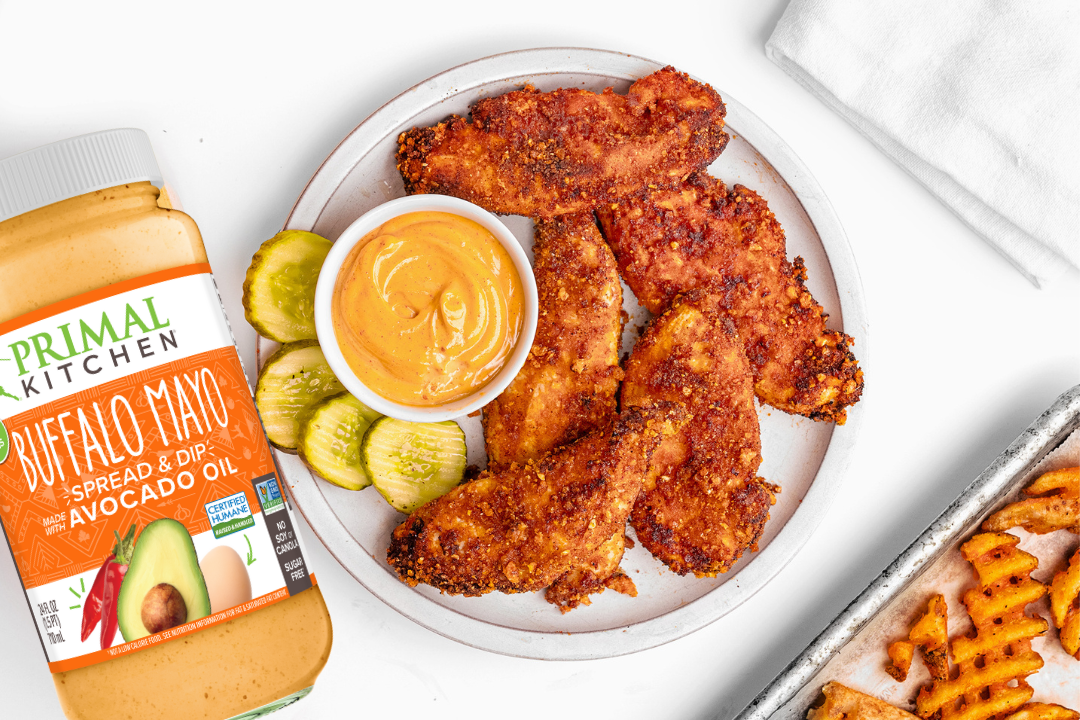 Ingredients
1lb chicken tenders (or sliced chicken breast)

2 Tbs Primal Kitchen Buffalo Mayo

1 bag of pork rinds

1 Tbs cayenne pepper

1 Tbs paprika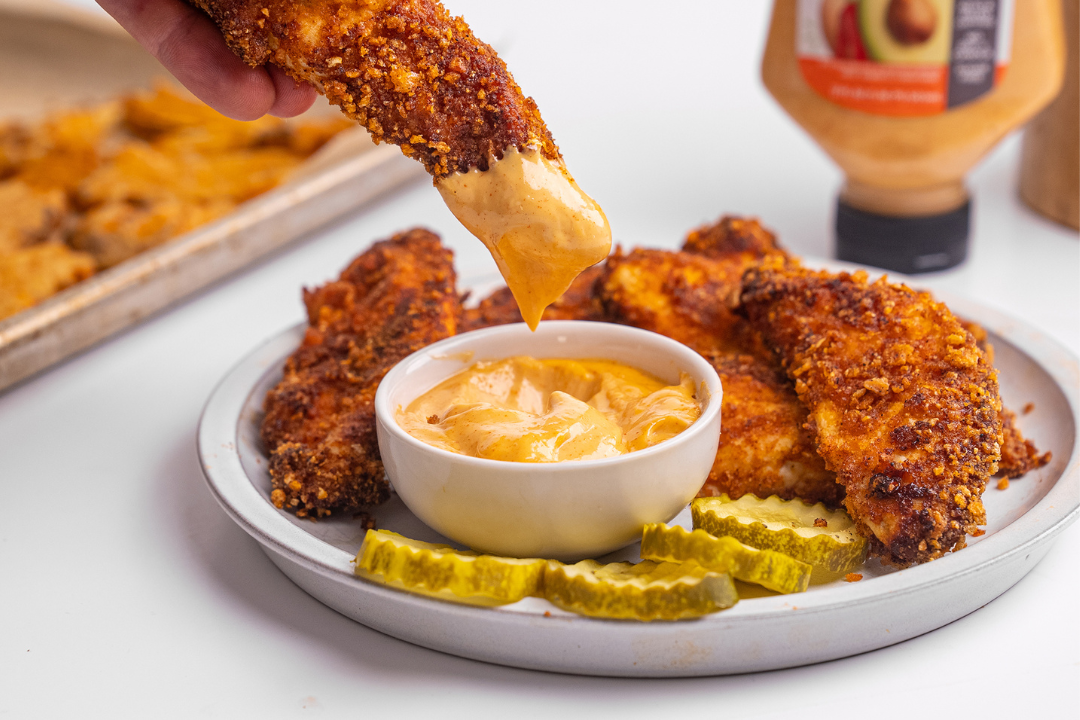 Directions
1. Put raw chicken tenders in a bowl, add Buffalo Mayo, and toss until evenly coated.

2. Crush pork rinds until they're in small, fine pieces and dump onto a baking sheet. Add cayenne pepper and paprika, then mix.

3. Toss the chicken tenders in the pork rind mixture until each one is coated evenly on each side.

4. Placed coated chicken tenders in the air fryer at 400 for 5 to 6 minutes, then flip. Continue in batches until all tenders are cooked.

5. Serve with a side of Primal Kitchen Buffalo Mayo for dipping.
How to Make a
Buffalo Mayo Board
Our Buffalo Mayo Board is a dairy-free delight crafted with delicious Primal Kitchen Avocado Oil Mayo and a swirl of our lip-smacking Buffalo Mayo for extra kick.
Add freshly cut veggies and voila! A fun, snackable platter to serve to your family or guests. This mayo board is fully customizable, so go wild and swap veggies with air-fried potatoes, sub in broccoli and snap peas, or add gluten-free crackers for a crisp, nutty crunch!
Plus, our Buffalo Mayo Board is easier to make (and pronounce) than "charcuterie," making it a big hit with hosts and guests alike.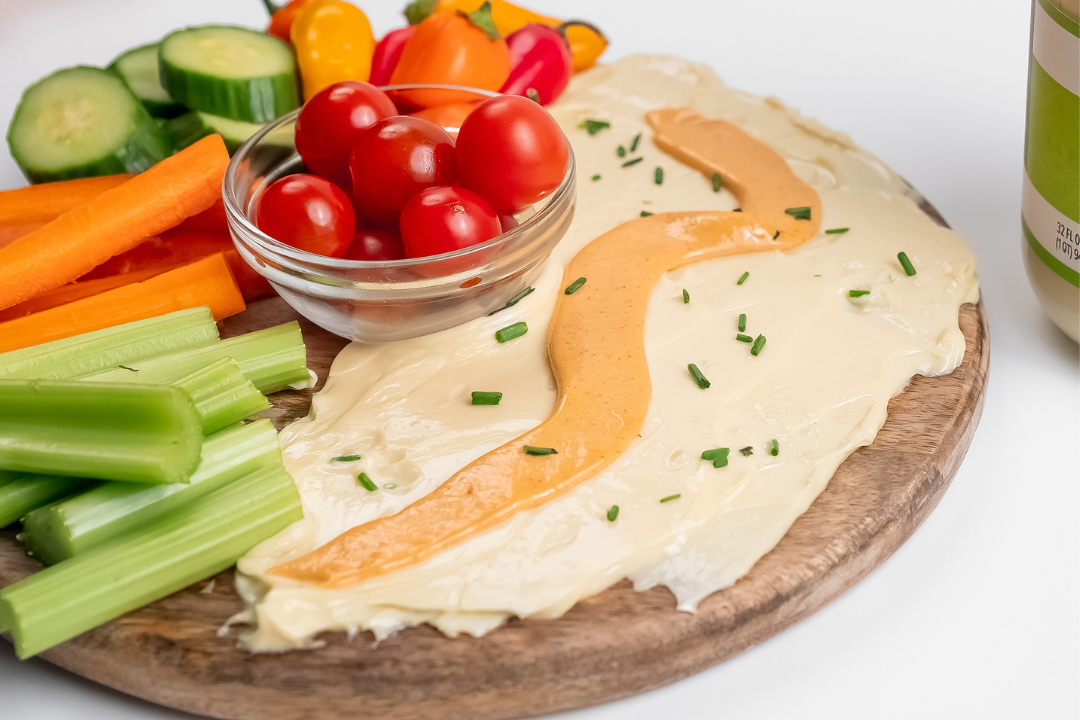 Ingredients
12 Celery sticks

12 Carrot sticks or baby carrots

12 Cherry tomatoes

2 Cucumbers, sliced

12 Mini peppers

6 Tablespoons Primal Kitchen Avocado Mayo

Drizzle of Primal Kitchen Buffalo Mayo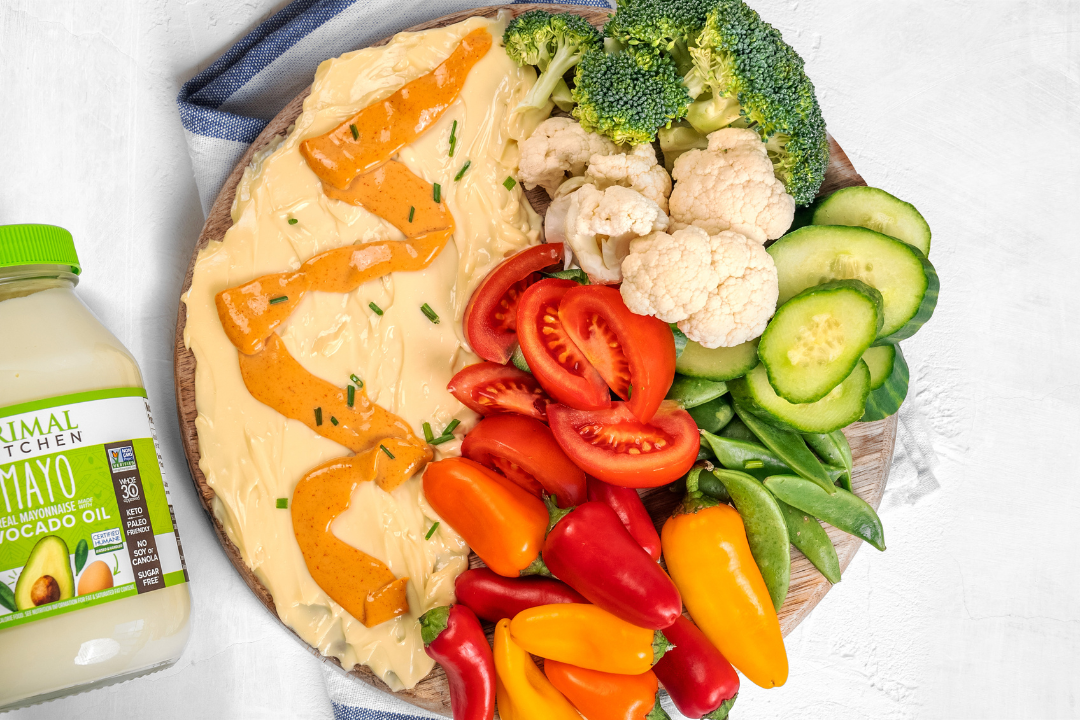 Directions
1. Spread Primal Kitchen Avocado Oil Mayo onto ½ of a wooden serving board.

2. Spread a thick swirl of Primal Kitchen Buffalo Mayo on top. Sprinkle with chives.

3. Put tomatoes in a small serving bowl. Place the serving bowl near the center of the board, being careful to avoid the mayo. Plate other vegetables around the bowl on the clean half of the board. Serve, dip, and enjoy!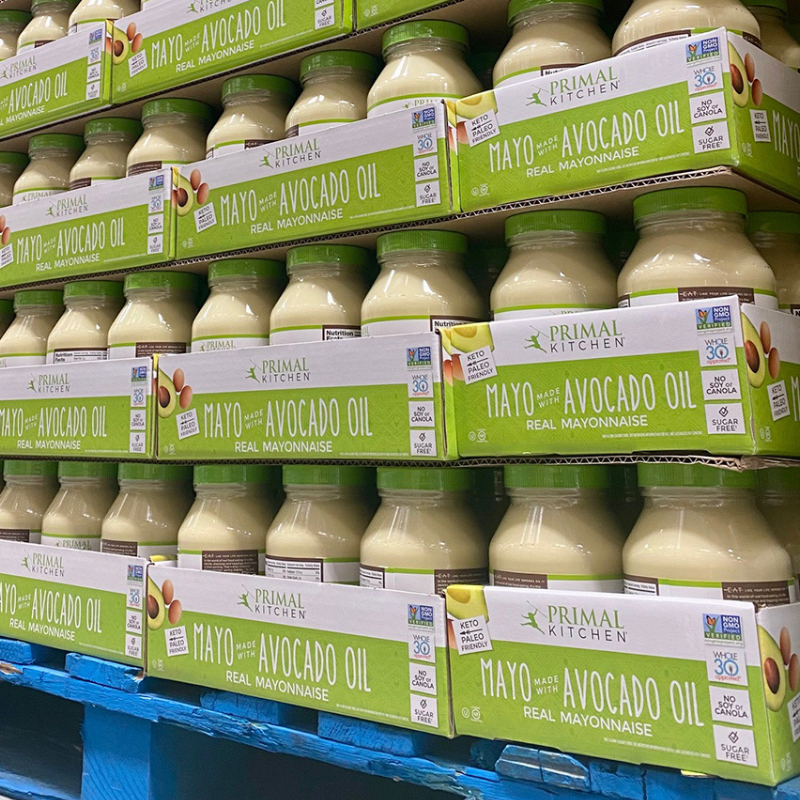 At Your Costco
Mayo made with Avocado Oil
Primal Kitchen Mayo is made with real ingredients like avocado oil, organic cage-free eggs, and without sugar, soy, gluten, or canola oil.
This classic, tangy Mayo is made without artificial ingredients and is Whole30 Approved®, Certified Paleo, and Keto Certified.
Find Primal Kitchen Mayo now in an extra-large 32oz jar at a Costco near you.